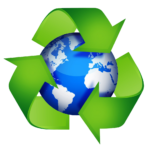 We deal with a lot of waste, so we need to consider the environment. We don't simply do this when handling waste, but in everything we do. Everyone at Carl Bird Limited in Norfolk is passionate about reducing waste and emissions, and we do this in several ways.
We use a modern vehicle fleet and ensure every vehicle is regularly maintained, helping us reduce emissions as much as possible.
We are always trying to find new recycling outlets for waste received on-site. Instead of focusing solely on waste disposal and removal, we consider reuse and prevention.
We have reduced using single-use cups in our offices/canteen.
As and when appliances need replacing, we will be selecting energy-efficient versions and switching to LED lighting.
Every team member is encouraged to email over paper for invoicing and receipts, and we ask people to only print when necessary. We only use recycled paper for our 'in-office' documents.
We try to encourage electronic methods of communication with our customers.
Instead of setting off on the most convenient route, we purposely plan routes ahead of time to reduce vehicle mileage.
We have implemented an on-site tree planting scheme.
We also segregate waste for recycling to ensure as much as possible is recycled and reused. Wood, plastics, paper, cardboard, green waste and metals are separated for onward recycling and we can recycle rubble, bricks and soil on-site.